All posts tagged Papua New Guinea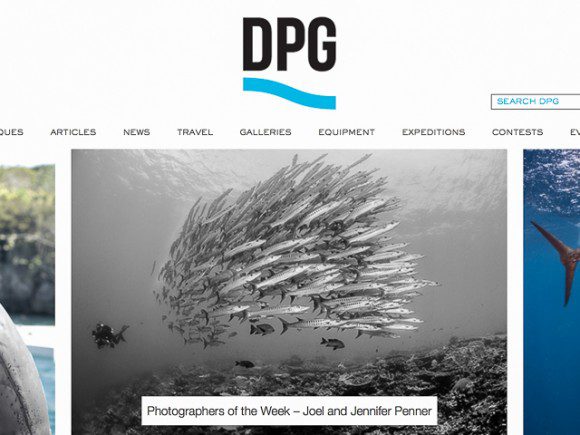 What an honor! What a thrill! Joel and Jen are the Photographers of the Week
on Dive Photo Guide.
***UPDATE***
These images will be on display at Bocanova through the end of February 2014. If you have not had a chance to view them, treat yourself to a delicious lunch, brunch or dinner at the restaurant, then view some of our latest underwater images printed on aluminum.
We've printed some recent images on aluminum, both high gloss and matte finishes, which are currently on display at Bocanova Restaurant now through the end of the year. All of these images, and more, are available for purchase on our on-line store.
Scuba diving and underwater photography in Papua New Guinea ia an adventure. Scuba diving and underwater photography in the Eastern Fields of Papua New Guinea is an adventurous adventure… think of the theme song to Indiana Jones! The Eastern Fields are approximately 120 nautical miles southwest of Port Moresby, in the northern Coral Sea. These sunken atolls offer the scuba diver an extraordinary experience to explore these reefs, with less than 75 people annually who are fortunate enough to dive these waters aboard the M.V. Golden Dawn. Endless varities of hard corals in garden formations, colorful soft corals, ginormous fans and gorgonians, zillions of reef fish, schools of jacks, barracudas and unicornfish and reef sharks all inhabit these unspoiled, pristine reefs, rich in nutients.
Traveling with our good friends, Backscatter Underwater Video & Photo Joel and I spent 14 nights aboard the M.V. Golden Dawn, who's captain and crew treated us to spectacular diving, kept us comfotable and well fed for the duration. The daily schedule went something like this: wake up, eat first breakfast (usually coffee, toast, fruit and/or cold cereal), DIVE, eat second breakfast (usually eggs of some sort or pancakes with more coffee), DIVE, eat lunch (soup, salad, sandwich or pasta), nap/relax, soak up some vitamin D, work on post-processing images in the afternoon, DIVE, afternoon snack (freshly baked cake/tart and coffee), optional night DIVE, dinner (simple but tasty meals made each day on the boat), then socializing or early-to-bed to do it all again the next day. Based on individual preferences and what your dive computer would allow, you could dive more or less each day. Diving in the Eastern Fields is not for the recreational diver or the feint of heart. Currents are often very strong, and were often described by our boat mates as "rrrrripping!". But it's those currents that provide the rich nutrients to the reefs, keeping the marine life thriving… great images for the underwater photographer to capture in stills or video.